Designed, Machined, and Assembled in the USA
High Precision for Inspection
Full Part Support
Precision Low-Runout Positioning at Reasonable Prices
Low-runout Bearings

Our standard Precision Roller Blocks use deep groove ball bearings with a P5 (6 micron) runout tolerance.
Ultra-precision versions use bearings with a P4 (4 micron) runout tolerance.
Bearings are open type. If you require shielded or sealed bearings for your application please contact us before ordering.

Single Setup Machining of Critical Features

The profile of the roller body and the pin holes are machined in a single setup to minimize error.

Interference Fit Assembly

Blocks are assembled with interference fits to remove fit tolerance errors.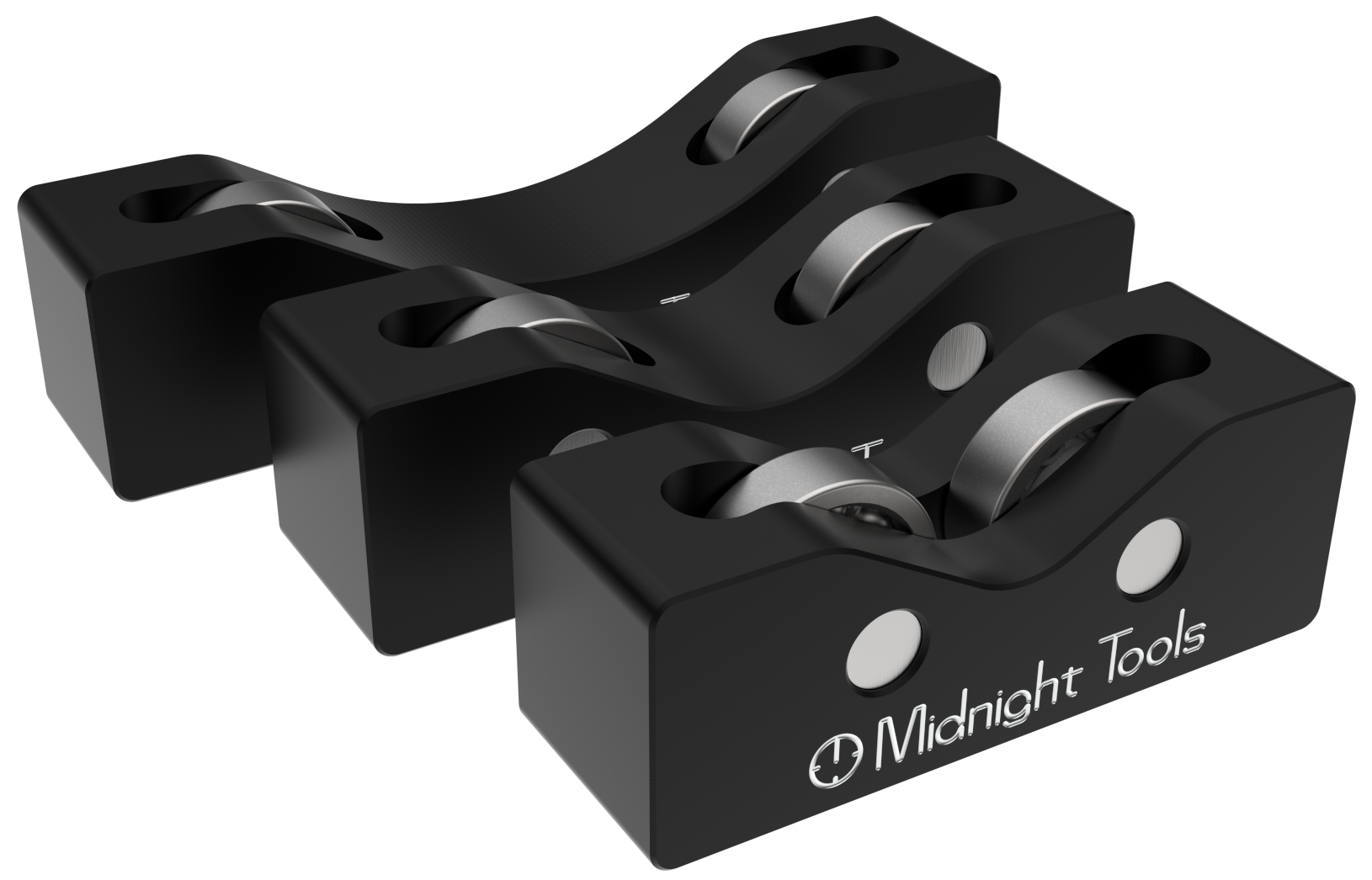 Aluminum for Inspection?
Aluminum has numerous favorable properties but is not a typically used for inspection equipment due to its limitations. By understanding and designing for these limitations we can deliver roller supports that meet the precision needs of many inspection applications at lower prices. Details of common limitations of aluminum and our approach to mitigating them is provided below. If you have specific application questions contact us at support@midnighttools.com.
Limitation
Design Mitigation
Effect
Minimize distance between pins and reference surface
Blocks are still susceptible to damage but anodizing provides a hard surface that resists scratches and minor damage and black color makes damage highly visible.
Thermal and loading dimension changes are proportional to the total dimension. Minimizing the distance to less than 1/4 that of competing steel products more than offsets the difference in material properties.
Specifications
Supported Diameters
Small Size
1/2 to 3 in
13 to 76 mm
Medium Size
2 to 5-1/2 in
51 to 140 mm
Large Size
5 to 9 in
127 to 229 mm
Load Capacity
Per Block
(Assumes full support of base)
600 lbs
273 kg
Bearing Details
Runout Tolerance
Standard - P5
Ultra Precision - P4
Dimensions (LxWxH)
Small Size
3-3/4 x 1-1/4 x 1-3/8 in
95.3 x 31.8 x 34.9 mm
Medium Size
4-1/2 x 1-1/4 x 1-3/8 in
114.3 x 31.8 x 34.9 mm
Large Size
5-3/4 x 1-1/4 x 1-3/8 in
146.0 x 31.8 x 34.9 mm
Weight
Small Size
per block
0.63 lbs
287 g
Medium Size
per block
0.71 lbs
325 g
Large Size
per block
0.83 lbs
380 g
Materials
Pins and Washers
Stainless Steel